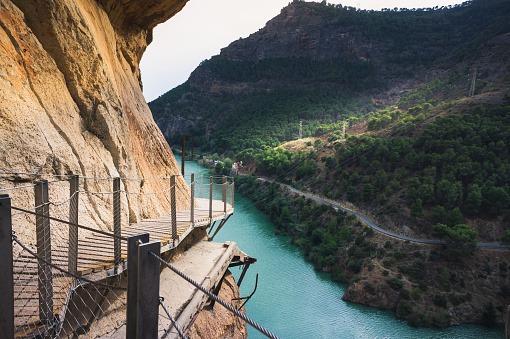 Caminito Del Rey – The World's No. 1 Dangerous Walkway
Caminito Del Rey – The saga
Table of Contents
What is Caminito Del Rey and Why is it Referred to as the Most Dangerous Walkway?
Caminito del Rey, or "The King's Little Pathway" in Spanish, is a walkway that stretches along the steep walls of a narrow gorge in El Chorro, Spain. It is considered to be one of the most dangerous walkways in the world due to its precarious location and lack of safety measures. Despite this, it has become an increasingly popular tourist destination for those who are brave enough to take on its challenge. In this article, we will explore what makes Caminito del Rey so dangerous and why it is referred to as the "most dangerous walkway".
Understanding the History and Revitalization of Caminito Del
Caminito del Rey is a unique walkway located near the village of El Chorro in Spain. It was originally constructed in 1905 to provide access to workers who were building a hydroelectric power station in the area. In recent years, it has become a popular tourist attraction due to its spectacular views and stunning scenery. The walkway has gone through extensive renovations and revitalization efforts over the years, making it one of the most iconic attractions in Spain. In this article, we will explore the history of Caminito del Rey and discuss how it was able to make such an impressive comeback after years of neglect.
A Look at the Restoration of Caminito del Rey
Caminito del Rey has recently been restored to its former glory. The restoration project was initiated by the Andalusian government and involved numerous organizations, including local authorities and private companies. The restoration was completed in 2015 and now the walkway is open to the public. It is a stunning example of how conservation efforts can bring a historic site back to life. In this article, we will take a look at the restoration of Caminito del Rey and explore who was involved in this remarkable project.
It is a unique hiking trail that runs through the El Chorro Gorge, offering breathtaking views of the surrounding landscape. The route is 4.8 km long and takes about two to three hours to complete, depending on how many stops you make along the way.
The Caminito del Rey is a great way to explore this magnificent natural wonder while taking in some of the best views it has to offer. From its stunning cliffs and waterfalls to its lush vegetation and diverse wildlife, there's something for everyone along this scenic route!
What You Need to Know Before You Go on This Epic Journey at Caminito Del Rey
First of all you need to have good walking shoes on or sneakers, a pair of the most comfortable ones. The bus drive from Málaga is about an hour so if you are on the early trekking tour bring some snacks and drinks. Sometimes the bus stops at a café where you can buy breakfast and hot and cold drinks.
Well at the start of the walk all trekkers will get a hard hat. it is also at this starting point where you will find toilets. And remember the walk is about three hours loong so it could be nice to go.
No selfie sticks aloud.
Well, that is what they tell us and I think they want to protect us from the possibility to drop our phones in to the river down below. I had a Gopro on a stick with me and noone really said anything. But there are guards walking the area and they will stop you if they see you are using a stick.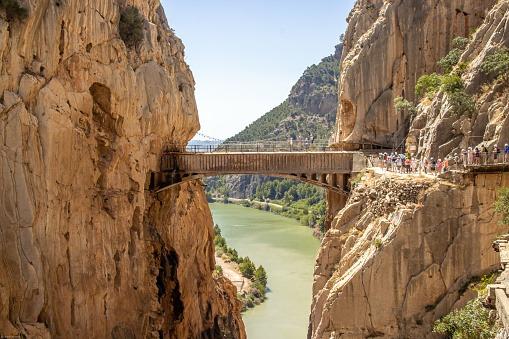 What TO Expect On This Epic Walk?
Are you ready for an epic adventure? If yes, then join us on this amazing walk in El Chorro! You will be amazed by the beauty of nature as you walk through the 300 feet high bridges and steep cliffs. You will also have a chance to experience the thrill of walking through small tunnels and crossing the big hanging bridge at the end of the walk.
Some parts of the walk is easy to do, walking on wide paths and some are more difficult as we climb stairs in narrow and high parts of the mountain. If you suffer from vertigo this might be a walk you don't want to take. But it is an spectacular walk to do.
Caminito Del Rey ending point
Remember that this is a walk that you start from one side and finnish at the other side. It is not a good idea to park a car and walk as you will not end up from where you started. We took a guided bus tour that was fantastic and we learned so much about the walk, the people living in the mountains and of course a lot of the history about this walk.
I can really recommend to take this tour, there is nothing like it in the world.