Completete list building exposed
Build today for a better tomorrow
Complete list building exposed – here are the tools to use
The money is in the list!
If that is true or not is a debated thing, but I must say Yes! it is in the list.
In the online business, especially when doing affiliate marketing & business it comes down to trust.
Comparing to someone looking to buy a new pair of sneakers. They can go on to any site and buy.
Network Marketing is personal. People must have trust in you in order to buy.
Once they are in and you have made a conection with them, the selling can start.
I have experience of people buying everything  could promote to them. And back then I was doing one business
successfully and as I made money, they wanted the same and got what I had,
Free System
There are both free softwares and softwares that comes with a charge.
The free softwares comes with limitations. The most common ones are:
Email limit
You can only have a limit number of connecitons (email addresses) in your account. Some let you have up to 1000 connections for free, others limit it to 500.
Send limit
Free systems allows you to only send out ie 1000 emails/month.
That can be a problem if you have 1000 connections and are sending automation emails (when people sign up) as well as campaigns /newsletters. One will block the other out.
Design limitations
You will most certain not have access to all design elements on a free plan. You might only get access to one editor a basic one or just one template with a very limited design option.
Report limits
When sending out your emails, it is important to know how many are opened, how many do unsubscribe, how many clicks you get on your links etc. Most free plans are very restricted with these reports.
Forms and landinpages
Free plans normally offer just one kind of sign up form or a landing page. It is good to be able to design your forms the way you need them to be and that they work well with your design on your webpage.
Paid System
It can be hard to choose the right software. How can you know what you need and if it is any good? Many times one have to trust what other people are telling you.
I have tested quite a few different softwares over the years. Some are much better than other, some are super easy to use, some hard. The cool thing now, is that you can design and map how you want the emails to be sent out.
This means, what happens if I send an email and the reciever opens my email, click a link in it, contra if they don't open it. I can pre-program actions I want the software to do. If someone don't open one email, I can let the system send out a new one after a few days, or remove them from my list.
If they open first email, the second will be sent out the day I told the system to send it. I can add how many emails that I want in my serie. Can be one a day for a year…
With a paid system you will get all you need to be a successfull marketer. All basic tools, design software, options for layouts and follow up tools.
Every bullet on the FREE plan will ofcourse be included to the fullest.
In the paid plan, you pay for your list. As it grows the cost will be up.
If you are doing it right, people will ask you to tell them…
GetResponse
It doesn't matter what I do, it seems like I am ending up here everytime anyway. GetResponse is a highly trusted and sofisticated software. It is one of the most used by marketers.
It is very easy to set up, has a ton of premade design templates and also an easy Drag-and-drop designer program. It also allows you to schedule your emails, ie, we now that emails sent in the morning, before 8 am are more likely to be opened than those sent in the evenings.
Aweber
This is also one of the most common software for marketers to use. Aweber is a trusted list building software and has been around a long time.
Some people think it is a little bit harder to use, some say they perform much better and that the opening rates are better.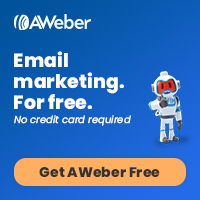 Get more by doing less – it is all in the Automation
Using one of the systems above is a must if you are planing on doing online business. You will not make it if you don't use it. Well, you can do it all manually, but the "secret" here is to make it all on automation, right. Work less. Work smarter and not harder.
So how does it really work?
Let's say you are in to fitness and you want to help others to become more fit and healthier. You have your own training programs that you want to sell.
First you create a landingpage, this is where you will show your offer to the online world. In that landingpage is a sign-up form, telling people to leave their email address and in return they will get your 5 best training to do at home, or, your 5 best recipes to grow muscles. When they sign up, the email software send out the first email, a Welcome email.
In this you thank the person for signing up and deliver the info they signed up for. But it is now the magic happens! As you have them on your list, you have made an email series of a couple of emails, that will be sent out on automation. The next one might come the same day or the day after, the rest will be distributed as you set it up, like over a 10 days period or so.
The smart thing now, is that you can start selling. You know already they are interested in getting fit or stay fit. Let's bring out all the things you have to sel.
Not just your training program that you had in mind, but they are most likely to be interested in meal plans, outfits and other things. The automation will send the emails for you, and the reciever will get your offers in to their inbox.
Once the automation serie is over, they are still on your list and now you can do Campaigns. A one time email. With a unique offer or just info, it is a good way to keep your list active and to keep them on the list.
My secret finally revealed – unlimited email contacts
I've been looking for a software that will allow me to add unlimited number of conacts and still keep a low cost for the service.
Finally I found what I was looking for in Send in Blue.

Unlimited contacts for a low cost, that is just amazing.
Some providers will charge $80-$150 for adding 3000 contacts.
I have over 9000 on my list. That would be over $200/month.

Send in blue allows me to add as many as I have, or to get sign ups online.
I get it all for $25 with Send in Blue.