Where to Stay in Stockholm
Where to stay in Stockholm and get the most out of your visit? There are plenty of good choices of a great stay in Stockholm and here is a little guide for you.
Whether you're looking for a luxurious hotel or a budget-friendly hostel, there are plenty of great options available. We'll provide you with all the information you need to make an informed decision when choosing your accommodation in Stockholm. Here is my guide to where to stay in Stockholm.
International hotel chains in Stockholm
Stockholm has quite a lot of hotels for being a smaller capitol city. If you are looking for international hotel chains there are a few. The majority of those hotels are located in the city center as well as the airport, Arlanda.
These are the international hotel chains you will find:
Sheraton
Hilton
Radisson
Choice Hotels
Scandic Hotels
Marriott
Best Western
Hyatt (Reisen Hotel)
One good thing to know is that for example the Choice Hotels in Sweden are not the same as in the US. The Clarion Hotel Chain is to be considered as a First Class Hotel chain in Scandinavia and is a very popular brand among Swedes.
Luxury staying
Stockholm is one of the most beautiful cities in the world and offers stunning views through out the city. Even though there are a few 5-star hotels in the city. If you are looking for a great stay in one of those properties you should look at the following hotels:
These hotels are the top 4 for the 5-star brand in Stockholm. All hotels are located in the heart of Stockholm with an easy access to discover the city.
Hotel Extraordinaire – Ett Hem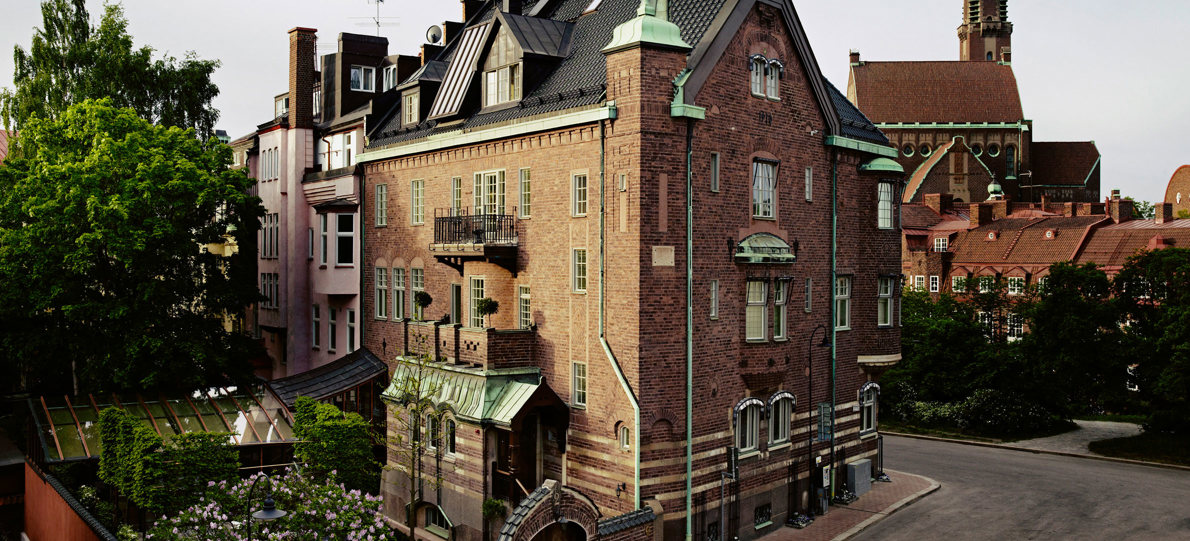 Ett Hem is a member of Small Luxury Hotels and is a very unique place to stay at. This property is a larger villa transformed in to a luxury stay. It is not the most expensive hotel in town but maybe the most luxurious. This cosy Town House has been turned in to a little charming hotel with just a few rooms, gardens and a restaurant. Definitely a place to stay if you are looking for something independent.
First Class Staying
There are a lot of hotels that would fit in to this category. And it all comes down to where in the city you want to stay and what kind of hotels are in that area. So lets talk about some of my fave hotels in Stockholm.
Clarion Hotel Stockholm – This hotel is on the island of Södermalm. This is the largest island in Stockholm with over 100.000 people living here. It is just a short walk away from Stockholm down town. The hotel has over 530 rooms and suites, bars, restaurants and a cool spa.
Nofo Hotel – This is a small boutique hotel in the heart of what is called NOFO in Södermalm, North Of Folkungagatan. It is not a fun place but they specialises in wine and food. It is a hip and fine hotel.
Hotel Reisen – This is your hotel if you want to be in Old Town. The hotel has just been renovated and is now part of the Hyatt hotels. I would say this is the best hotel in Old Town.
Down Town Camper – this city hotel is a big charm. Even though it is quit large it has a lot of charm. the hotel offers a lot of activities and also has a roof top spa and bar. Popular hang out for Stockholmers before hitting bars and restaurants.
At Six – Just across from Down Town Camper is At Six. A large hotel with cozy rooms and modern feel to it. At Six also has a great roof top filled with different bars and restaurants, like an urban escape.
Hotel Continental by Scandic – Just across the railway station and above the metro. A modern hotel with a great location. The hotel also has a very popular outdoor bar on level 7.
So, where to stay in Stockholm?
Remember this is just a few suggestions of places to stay. There are so many offers in Stockholm. And it all comes down to what you want to pay. Of course there are cheap options as hostels too. Take a look at a booking engine like CheapOair to find out more about the daily rates you can find.
Great areas to stay in Stockholm are the city centre, old town, Djurgården and Södermalm.
Where to stay in Stockholm if you are looking for a spa hotel or resort
The typical spa hotel are not really to be found in the city centre but if you are willing to travel just outside of the city there are a few gems.
Små Dalarögård – has a newly built spa and is located south of Stockholm, about a 45 minutes drive. The hotel is located in a charming part of the archipelago.
Yasuragi – a Japanese themed spa with many different kinds of pools, even outdoors. At this resort you also eat japanese styled food.
Djurönäset – This hotel is also located in the archipelago and offers among other things a heated infinity pool. That is very nice when it is snowing and freezing cold outside.
Ellery Beach House – A newly renovated hotel and very popular. Big spa, outdoor pools and just a great modern hangout for a night or two.
If you want a spa and stay in Stockholm city you should look at Clarion Hotel Stockholm, Down Town Camper or Grand Hotel.
3 good reasons to visit and find out where to stay in Stockholm
Stockholm is a city of abundant beauty and culture. From its stunning architecture, to its vibrant nightlife, to its rich history – there is something for everyone in this city.
The city's waterfront promenades and harbours are stunning
Stockholm offers a great restaurant scene, trendy shopping, and great for walking
The city has a rich history, impressive architecture, and natural beauty