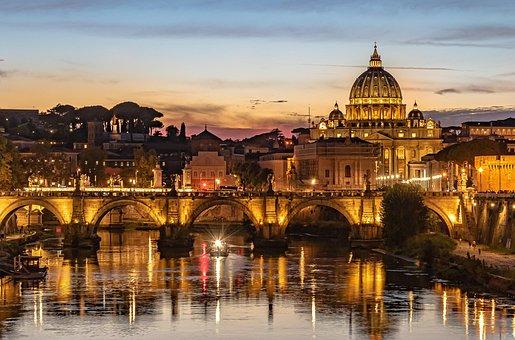 Rome the Eternal City – Exploring the Fascinating History & Culture
Table of Contents
An Overview of Rome's Storied History, Beauty & Significance
Rome is one of the most storied cities in the world. From its foundation in 753 BCE to its current status as a major international center of culture, art, and commerce, Rome has been an integral part of history for centuries. Known as the "Eternal City," Rome is home to some of Italy's most iconic landmarks and monuments, from the Colosseum to St. Peter's Basilica. This guide will provide an overview of Rome's history and beauty, highlighting some of its most important facts and attractions for travelers looking to explore this ancient city.
Ancient Rome the eternal city: Exploring its Incredible Landmarks & Monuments
Ancient Rome is one of the most fascinating and iconic cities in the world. It has a rich history and culture, along with many incredible landmarks and monuments that tell its story. From the grand Colosseum to the ancient Forum, from Palatine Hill to the Pantheon, exploring these sites can give us an insight into Rome's past glory. Join us as we explore these incredible landmarks and monuments of Ancient Rome!
Modern Rome: Discovering Its Artistic and Cultural Highlights
Rome is one of the most beautiful cities in the world and it has a rich cultural and artistic heritage. From the Vatican City to the ruins of ancient Rome, there is something for everyone to explore. Whether you're looking for a guided tour of the Vatican or just want to find some of the best restaurants in Trastevere, Rome has it all. You can also take in some of its iconic sights such as the Piazza Navona fountain or visit one of its many museums and galleries.
Exploring the Top Attractions in Rome
Rome is a city full of history and culture, with many attractions to explore. From the iconic Colosseum, to the Pantheon and Trevi Fountain, Rome has something for everyone. Whether you are a history buff or just looking for a great day out, these top attractions in Rome are sure to provide an unforgettable experience. Let's take a look at some of the most popular sites in Rome – the Colosseum, Pantheon, Trevi Fountain and Spanish Steps – and discover why they are so popular among visitors.
The Colosseum in Rome
in Rome is one of the most iconic landmarks in the world. It is a symbol of the Roman Empire and its rich history, and it has become a popular tourist destination for people all over the world. The Colosseum was built in AD 72-80 by Emperor Vespasian and his son Titus, and it was used for gladiatorial contests and public spectacles. It is an impressive structure that still stands today, more than 2000 years after its construction. Visitors to the Colosseum can explore its many levels and marvel at its grandeur, as well as learn about its history through guided tours.
Pantehon
The Pantheon is a building with a long and mysterious history. Located in Rome, Italy, it was originally built as a temple to the gods of Ancient Rome. Over the centuries, it has been used for various purposes including a church, fortress and even a mausoleum. Its unique design has made it one of the most iconic structures in the world, and its mystical atmosphere has attracted visitors from all over the world for centuries.
Trevi Fountain
The Trevi Fountain is one of the most famous tourist attractions in Rome. It is a beautiful Baroque fountain that has been featured in many films, including Federico Fellini's La Dolce Vita and Three Coins in the Fountain. The fountain has also been visited by many stars, such as Audrey Hepburn and Elizabeth Taylor. Its iconic design draws visitors from all over the world to marvel at its beauty and take pictures of it.
Spanish steps
The Spanish Steps are an iconic landmark that have been around since the 18th century. They are located in the city center and were built to link the Piazza di Spagna with the Trinita dei Monti Church. The steps have a long history that goes back to Ancient Rome and its politics.
The Spanish Steps are popular among tourists who come to Rome for sightseeing and walking. It is one of the most beloved attractions in the city, where people can take a break from their busy lives and admire its beauty. The steps also provide a great view of some of Rome's most famous sites, such as Piazza Navona, Pantheon and Trevi Fountain.
Experience Roman Cuisine – From Traditional Dishes to Innovative Flavors
Roman cuisine is a unique blend of traditional Italian flavors and modern, innovative culinary techniques. From pizza Romana to pasta dishes, Roman cuisine offers a wide variety of delicious options for food lovers. Whether it's a simple plate of pasta or an elaborate Roman delicacy, you can be sure to find something to tantalize your taste buds.
Experience the best that Rome has to offer with its traditional dishes and creative twists on classic flavors. Enjoy the rich flavors of pizza Romana, handmade pasta dishes, and other Roman delicacies that will make your mouth water. With its unique combination of old-world Italian recipes and modern culinary techniques, Roman cuisine is sure to please even the most discerning palate.
Rome's Famous Cuisine and World-Famous Dishes
Rome is known for its iconic cuisine and world-famous dishes. From traditional Italian dishes like pasta carbonara to more modern creations, Rome's food scene has something for everyone. Whether you're looking for a quick snack or a full-course meal, Rome has it all. From the classic Roman pizza to the mouth-watering gelato, visitors can experience authentic Italian food in every corner of the city. With a variety of restaurants and cafes offering traditional and modern dishes, there is something for everyone in Rome's famous cuisine.
The Best Shopping Destinations in Rome for Every Budget
Rome is a shopper's paradise, with something for every budget. Whether you're looking for luxurious designer items or affordable street finds, you can find it in the city. The Piazza Navona area is one of the best places to shop in Rome, with its abundance of street markets and boutiques. Here, you can find unique items from local artisans as well as luxury labels from around the world. Whether you're looking for souvenirs or stylish clothing, this area has it all!
The Eternal City After Dark – Exploring Rome at Night
Rome is known for its beauty and culture, but it is also a vibrant city at night. With its romantic atmosphere, lively nightlife, and amazing attractions, Rome is a great destination for those looking to explore the Eternal City after dark. From rooftop bars to street performances, there are plenty of things to do in Rome at night time. Whether you're looking for an evening of entertainment or just want to take in the sights and sounds of the city, there's something for everyone in Rome after dark. So come explore the Eternal City and see what makes it so special when the sun goes down.
Staying in the Eternal City – The Best Hotels & Accommodations
Rome is one of the most visited cities in the world and it is no surprise that people often find themselves looking for the best hotels and accommodations in the city. Whether you are looking for budget-friendly hotels near Vatican, luxury hotels, hostels or city living, Rome has something for everyone.