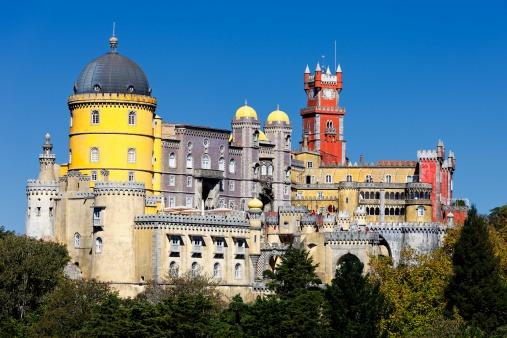 The wonderful and fantastic Pena Palace in Lisbon
The Pena Palace is a Romanticist castle located in the Sintra Mountains above the town of Sintra, Portugal
Table of Contents
it is a national monument known for its architectural features and vast forested park. The castle stands atop a jagged rocky outcrop, the second highest peak (480m) of the Serra da Sintra hills. The surrounding park is in close harmony with the magical palace. It is a fantasy palace mixing details inspired by the Gothic, Manueline, Moorish and Renaissance styles
Pena Palace on Unesco list
Pena Palace is an architectural masterpiece that is known for its vibrant colors and intricate designs. It was declared a UNESCO World Heritage Site in 1995 and has been attracting visitors from all over the world ever since. From its stunning façade to its grand interiors, Pena Palace truly captures the essence of Portuguese culture and heritage.
The History of Pena Palace
The history of the Pena Palace in Lisbon, Portugal dates back to the 12th century when there was a chapel dedicated to Our Lady of Pena on the site. King Ferdinand II of Portugal began construction of the palace in 1838 and it was completed in 1854. The palace is a major expression of 19th-century Romanticism and is a UNESCO World Heritage Site. It is said that the construction started after an apparition of the Virgin Mary to a monk.
The palace contains many unique architectural features, including its Moorish Revival style, which combines elements from different cultures such as Islamic, Gothic and Renaissance. Inside the palace you can find numerous works of art that tell stories about the country's past and culture.
The Unique Appearance and Style of the Palacio da Pena
The Palacio da Pena in Lisbon, Portugal is a unique and colorful palace that stands out from the rest. Its unique style and appearance make it one of the most popular tourist attractions in Lisbon. The palace is a mix of different architectural styles, which gives it an eclectic and vibrant look. The colorful facade with its ornate decorations and intricate details make it a sight to behold. It's no wonder why the Palacio da Pena is one of the most visited places in Portugal!
The interiors of the palace were designed in Victorian and Rococo styles. It is an example of 19th-century Romanticism with its vividly painted terraces and ornamental battlements
Pena Palace interior design
The interior of the Pena Palace in Lisbon, Portugal is equally fascinating as its exterior It has been restored to how it would have appeared in 1910 when the Portuguese nobility fled to Brazil. The palace features crenellated towers and terraces painted in vibrant colors, and images of the interior can be found on Alamy.com and RichardRabel.com
How to get to Pena Palace and Nacional Palace
Pena Palace is located in Sintra, around 4 km away from the Sintra National Palace. The best way to get there is to take the CP – Sintra line train to the Sintra station and then board bus number 434. Alternatively, you can take a taxi or tuk-tuk from the station, or drive or take a rideshare. It's recommended to buy tickets in advance and leave a good window of leeway in your schedule to catch the train out of Lisbon.
Remember that when you arrive at Sintra, there is a shuttle bus going up to Pena Palace, you can make a walk as well and at some points it is a bit strenuous. If you come in the summer months be prepared to wait for quite som time as it will be crowded.