Things to do in Valencia, Spain right now. Top 8 magic attractions
Valencia in Spain is such a pretty city. The ocean nearby, fantastic architecture and lots of fun things to do. Here are some of the super cool things to do in Valencia.
Table of Contents
Things to do in stunning Valencia, we don't know where to start really. But we are going to give it a try here. The city is remarkably beautiful and has a lot of green parks, small shops, coffee houses and great restaurants and bars
About Valencia and coming up, things to do in Valencia
Valencia, Spain is a popular tourist destination with many attractions to explore. Popular activities include visiting the City of the Arts and Science, exploring the historic Silk Exchange, admiring the views from El Miguelete Tower,strolling through Turia Gardens, and visiting Saint Nicholas Church. But we are going to get through some other fun things to do in stunning Valencia.
What makes Valencia unique?
Valencia is one of the most beautiful cities in Spain, with stunning architecture, great food, and plenty of things to do. But what makes Valencia truly unique is its vibrant atmosphere and youthful energy. Here you will find students from all over the world coming together to experience a city that offers something for everyone.
Uncover the City's Historical Landmarks and Monuments
Valencia is a city full of history and culture. It is home to some of the most iconic historical landmarks and monuments in the world. From the famous Central Market to the beautiful Valencia Cathedral, there are many places to explore and uncover.
Take a stroll through Plaza del Virgen, one of Valencia's oldest squares, or visit Palacio del Marques de dos Aguas, an impressive palace that was once home to royalty. These are just some of the many historical landmarks and monuments in Valencia that you can discover on your next visit.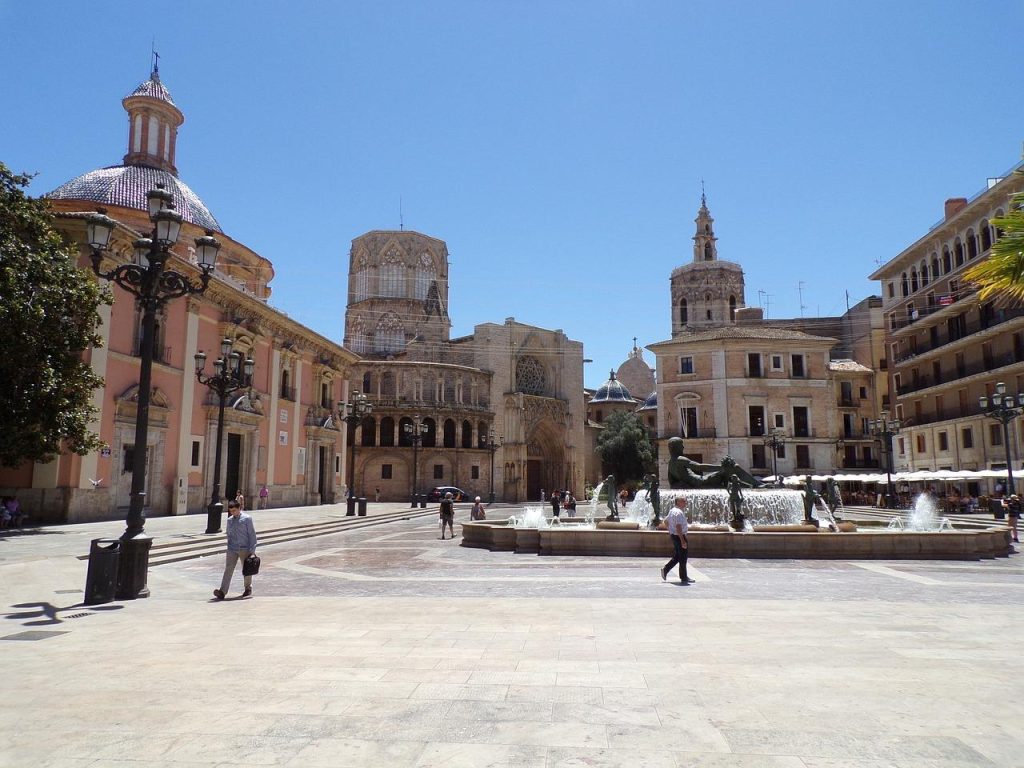 So, what fun things to do in stunning Valencia?
Oceanográfic
Let's start with the most obvious one. The Aquarium or Oceanográfic. Oceanográfic is an amazing ocean-themed park located in Valencia, Spain. It is one of the largest aquariums in Europe and has a wide range of attractions for visitors to explore. Visitors can experience the wonders of marine life from all over the world, including sharks, dolphins, seals and penguins. With its large variety of exhibits, educational activities and interactive shows, Oceanográfic offers something for everyone.
Flamenco at La Bulería
Next we will really talk about flamenco. In Valencia you'll fins some of the best dancers and musicians in Spain. And especially at the famous La Bulería. This wonderful restaurant is intimate and dark and all the drama from the music and the dancing is so intense. No one can leave this show and not being touched. It is an unforgettable night for sure. You will start the evening having a nice authentic three course meel before the show starts. Bring napkins for your tears.
Nibble on delicious hams and sausages in EL Mercat
El Mercat is a vibrant marketplace in Valencia, Spain. It's a great place to explore the local culture and cuisine, as well as to find unique gifts and souvenirs. From fresh fruits and vegetables to handmade jewelry and clothing. Grab something to eat in the market or just outside, there are plenty of nice restaurants serving great local foods. Have a glas of wine before you go to next funs things to do in stunning Valencia.
Another of the many things to do in Valenica is to Discover the city on a bike
Valencia is a beautiful city to explore by bike. With its narrow streets, colorful buildings and breathtaking views, it's no wonder that biking is one of the most popular ways to discover Valencia. Start your tour in the Barrio del Carmen and make your way to the cathedral and Migelete tower. Then take a ride along the Quarts Towers, Torres de Serranos and enjoy all the sights as you bike through this vibrant city.
What to eat in Valencia
Valencia is a city full of culture and amazing food. From classic Spanish dishes to delicious tapas, there's something for everyone in Valencia. If you're looking for a true taste of the city, make sure to try some of its classic dishes such as paella with rabbit, Fideuà (the paella with noodles), Arròs a banda, and classic tapas. With so many options available, you'll be sure to find something that satisfies your taste buds!
More local dishes to choose from
Kaki Ribera del Xúquer – it is a persimmon fruit found in some local dishes
Cebolla Rice (Arroz Cebolla) – a local rice used in many dishes in Valencia
Horchata and Fartons – Horchata is a popular soft drink from Valencia, Spain made from ground tiger nuts (chufa) served cold with Fartons, sugar-dusted pastry
What to drink in Valenica?
Agua de Valencia is the most iconic drink of Valencia and is a mix of cava, orange juice, vodka and gin. It is the regions "Sangira".
Cantueso alicantino
Mistela – A local liquor made from muscat grapes
Carajillo de Castellón – coffe and liqour
Wine from Valenia and the region
Valencia and its region produce a variety of wines, including those made from Monastrell, Tempranillo, Cabernet Sauvignon, Merlot, Merseguera, Macabeo, Planta Nova, Garnacha Tintorera and Clarino grapes. Utiel-Requena is one of the most popular wines and the largest winemaking zone of the region. A lot of the wineries also accept visitors. Check with your winery of choice if they accept visitors.
Popular wine brands include Murviedro Bodega Histórica La Casa De La Seda Bobal, Bodegas Faelo Vino La Dama, El Prado Tempranillo Cabernet 1.5L and El Prado Tempranillo Cabernet.
Wine tasting in Valencia
Valencia offers a variety of wine tours and tastings, such as the Valencia Old Town Tour with Wine & Tapas in 11th Century Historic Monument, a visit to the Utiel Requena wine region, a Wine Tasting Experience with a Professional Sommelier in Valencia City Center and a tour of exciting wineries and restaurants.
Valencia Wineries
Valencia has a variety of wineries to visit, such as Bodegas Francisco Gomez, Aranléon, Bodegas Murviedro, Montesanco Bodega and Murviedro – Bodega Histórica.
A short summery
As you can see there are many things to do in Valencia, it is all up to you what you want to do. Remember the city is also very near the beautiful beach and all the fancy beach resorts in that are. So if you are a beach person and like the sea you will probably fins more things to do in Valencia.
Visit the narrow streets and look for restaurants and bars where the local hangs. Go to the neighbourhood of El Carmen. El Carmen in Valencia is home to a variety of restaurants, including steakhouses, Italian eateries, and tapas bars.
Popular restaurants include Foc i Fum, Masa Madre, Bajamarea, Wave Gastro Bar, Los Escalones de la Lonja, Restaurante Navarro, and Restaurante El Encuentro. Some if the best mexican foods I have had has been in Valencia. Enjoy your vivist!
Do you have any questions?
Please leave a comment in the section below, I am happy to help if you have more questions.
FAQ's
What is Valencia best known for?
Valencia is famous for the City of Arts and Sciences, the Valencia Cathedral, the Old Town, the Central Market, and being the birthplace of paella. Valencia is also popular for its peculiar museums, quirky festivals, beautiful sunny weather, and fantastic sandy beaches.
Is Valencia in Spain worth visiting?
Yes, there is an absolutely stunning modern complex, The City of Arts and Sciences in Valencia. Moreover, many beautiful buildings dot the landscape in the Old Town – the Silk Market (a World Heritage Site), Central Station, Mercado Colón, The Museum of Ceramics, Medieval churches, basilicas, and squares
Is Valencia a cheap city?
I would say Valencia is a cheap city to visit. Going for a beer is normally just a few Euros. It is much cheaper than the bigger cities of Madrid and Barcelona.